Your long search is over

. You've found the home page of

Lee Goldberg

- author, TV producer, and

charming man-about-town

.
SIGN UP TO MY NEWSLETTER AND GET A FREE COPY OF 'McGRAVE'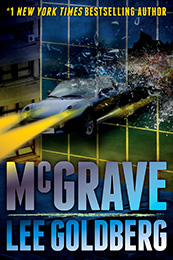 FEATURED VIDEO
Amazon Interviews Lee Goldberg
More Gleason

by Lee Goldberg, in Me Me Me, 3 comments

Last night I went to the memorial for my dear friend and mentor Michael Gleason, who passed away a few weeks ago. Here is a short essay I wrote for the memorial keepsake that was given out to family members. I am the wr

Our Worst Script

by Lee Goldberg, in The Writing Life, 3 comments

Here's an excerpt from "About Face," the worst script that William Rabkin and I ever wrote...but before I share it with you, here's the story behind it

Michael Gleason Has Passed Away

by Lee Goldberg, in Current Affairs, 2 comments

I can't really collect my thoughts right now to express how much he meant to me...it's not easy to type with tears in my eyes. He and Ernie Wallengren, who died way too young, were my mentors in the television business..
What People Say
The Walk is a magnificent novel — by turns hilarious, scary, sad, witty and one hell of a page-turner, too.

Mystery Scene Magazine