Your long search is over

. You've found the home page of

Lee Goldberg

- author, TV producer, and

charming man-about-town

.
SIGN UP TO MY NEWSLETTER AND GET A FREE COPY OF 'McGRAVE'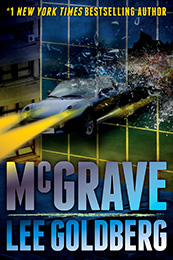 About McGrave
Los Angeles cop John "Tidal Wave" McGrave is an unstoppable force of nature who always gets his man...even if it means laying waste to everything around him, including his own career...which is exactly what happens when he pursues Sebastian Richter, the ruthless leader of an international gang of violent thieves, all the way to Berlin.
"Pages of awesomeness...think of this as some sort of lost 80s action film. McGRAVE is a super-breezy and easy read," Bookgasm
"Holy Crap, this book is insanely fun...it's high impact, high adrenaline, and high class all the way," The Blue Site
Attention Fanfic Authors: The Characters Don't Belong To You

by Lee Goldberg, in Fanfic, 5 comments

I am always amused when fanfic authors get upset when the creators and copyright holders of the characters they are writing about dare to assert their legal, creative and moral rights. A great example comes from this rec

Read the Contracts

by Lee Goldberg, in Fanfic, 6 comments

It astonishes me that writers, who make their living from their words, don't bother to read the contracts that they sign. If you want a good example of this, read

One Reason Why I Write

by Lee Goldberg, in Monk Books, 8 comments

There are lots of reasons why I write mys

The Mail I Get Rerun – I Don't Want to Find You an Agent

by Lee Goldberg, in The Mail I Get, 2 comments

Here's a golden oldie from a few years back... I got an email today from a guy who says he's been writing scripts and entering competitions for the last five years, ever since he got his MFA from York Univeri

The Mail I Get Rerun – Stop Looking for a Short Cut

by Lee Goldberg, in The Mail I Get, 11 comments

Here's a golden oldie from yesteryear's mailbag.. I received a polite email from a guy on the East Coast who says he has a great idea for an episodic legal drama: Though I spend a great deal of m
What People Say
The Walk is a magnificent novel — by turns hilarious, scary, sad, witty and one hell of a page-turner, too.

Mystery Scene Magazine