Your long search is over

. You've found the home page of

Lee Goldberg

- author, TV producer, and

charming man-about-town

.
SIGN UP TO MY NEWSLETTER AND GET A FREE COPY OF 'McGRAVE'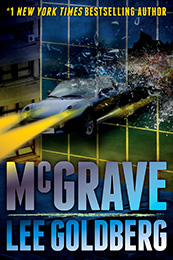 FEATURED VIDEO
Amazon Interviews Lee Goldberg
Bruce De Silva on Writing "The Dread Line"

by Lee Goldberg, in Guest Posts, 1 comment

My friend Bruce DeSilva's The Dread Line, the fifth book in his Edgar award-winning Liam Mulligan series, is coming out in hardcover and digital editions next month. I asked Bruce to share with you the creative struggle

Playing Cops and Robbers

by Lee Goldberg, in The Writing Life, 2 comments

I just got back from The Writers Police Academy where I, and two hundred other writers, got to play "cops and robbers." It was my first time participating in the annual event which, I am told, is as close as you can get

Writing Diagnosis Murder & How to Plot a Mystery

by Lee Goldberg, in Diagnosis Murder, 5 comments

The difficulty, the sheer, agonizing torture, of writing DIAGNOSIS MURDER is telling a good story while, at the same time, constructing a challenging puzzle. To me, the story is more important than the puzzle — the boo

Watch Out for WATCH ME DIE

by Lee Goldberg, in Me Me Me, 2 comments

In this new, short video I talk about how my book WATCH ME DIE came about. I'm fond of all the books that I've written, but in some ways, this may be my favorite...and it's only 99 cents on Amazon, iBooks, Barnes & Noble

The Mail I Get: Booktweep Edition

by Lee Goldberg, in The Mail I Get, 3 comments

The promotional visionaries at Booktweep send out Twitter ads for you like this: "The Most Entertaining Book Written Very Well" and "This Was An Enjoyably Book to Read Excellent" You can get promo like that for just $14.
What People Say
The Walk is a magnificent novel — by turns hilarious, scary, sad, witty and one hell of a page-turner, too.

Mystery Scene Magazine