Your long search is over

. You've found the home page of

Lee Goldberg

- author, TV producer, and

charming man-about-town

.
SIGN UP TO MY NEWSLETTER AND GET A FREE COPY OF 'McGRAVE'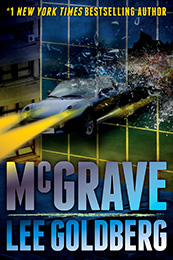 FEATURED VIDEO
Amazon Interviews Lee Goldberg
The Mail I Get: Booktweep Edition

by Lee Goldberg, in The Mail I Get, 3 comments

The promotional visionaries at Booktweep send out Twitter ads for you like this: "The Most Entertaining Book Written Very Well" and "This Was An Enjoyably Book to Read Excellent" You can get promo like that for just $14.

Garry Marshall was a Mensch

by Lee Goldberg, in Unsold Television Pilots, 9 comments

I was very sad to hear about Garry Marshall's passing. I only had a brief encounter with him, but it had a big impact on me.

Happy Birthday, Dad. I Don't Miss You.

by Lee Goldberg, in My Family, 12 comments

Today would have been my dad's 70-something birthday. He died too young, sitting on a couch, eating pizza. He was in the midst of his third marriage and he was broke, or close to it, yet again.

Traveling the World for THE PURSUIT

by Lee Goldberg, in The Writing Life, No comments yet

One of best parts of beginning a new Fox & O'Hare adventure for me is traveling to the locales where the story will take place.

The Pursuit & Cosmic Coincidences

by Lee Goldberg, in Me Me Me, 1 comment

Yesterday several dreams came true. You can now call me a #1 New York Times bestselling author. Hitting #1 is a dream come true... but it got even better thanks to some cosmic coincidences.
What People Say
The Walk is a magnificent novel — by turns hilarious, scary, sad, witty and one hell of a page-turner, too.

Mystery Scene Magazine